About me
My name is Sasha, I live in Riga, Latvia, and I am a pipe maker. I craft tobacco smoking pipes from briar - a root of a tree, which grows around Mediterranean Sea.
I was born and raised in St. Petersburg, Russia. I had finished 5 years of art school with honors, and then a physical and mathematical lyceum. When I was 17 years old, I had a choice in front of me what to do next: continue learning and become an artist or choose a technical profession.
I have chosen the second option and became a programmer. At first, I worked in a web design studio. Later, I moved up in ranks to become an administrator at a web-store. After acquiring all necessary traits, I managed to grow to be a web-programmer in IT-outsourcing Company.
After some time, I went to become a freelancer.
While working in my office as a freelancer, I would smoke cigars there. I've kept two humidors at all times. Both were full of Rocky Patel, Perdomo, CAO, and other cigars.
In 2010, I became interested in pipe smoking. My first pipes, were cheap, factory made in Italy. I was not overwhelmed by them. At some point, I almost abandoned the idea of pipe smoking. But, after receiving my first handmade pipe, as a gift from my wife, I noticed a huge difference between handmade and factory produced pipes.
Later, I became interested in pipe making. I really wanted to create a high quality, excellent engineered pipes, but at the same time, inexpensive. Importantly enough - this activity gave scope for a return to my passion for art, which I really missed.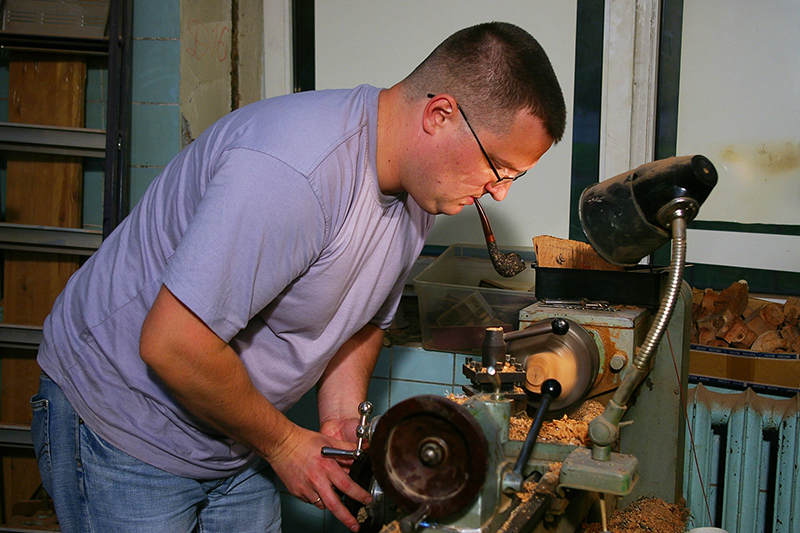 I've researched and found, enormous amount of information on the web about pipe making. I bought various materials, machines, and hand tools to craft pipes. It was very difficult at first, since I hadn't done anything similar in the past. I didn't even know the name of tools, which I had to purchase and use for my new craft.
In spring 2011, I made my first pipe. Not to say that it was technically perfect, but it was my first crafted pipe. Now, this pipe floats somewhere in the Ladoga Lake: it fell in water, while I was fishing in Karelia.
Since then, I've spent all my free time at the machines and files. This is a really interesting hobby.
A few months later, in autumn of 2011, I, as I thought, was ripe to show my works publicly. Now, I think, I probably hastened. I'm a little embarrassed for some of the pipes, which I crafted at the start, but it was a learning curve.
Soon after, I received my first orders. It was overwhelming. I sold my first pipes for $50. This price was high enough, to purchase additional materials. Then, I gained regular customers, who ordered again and again from me. My hobby became a little less expensive.
For a very long time, pipe making has been just my hobby, even while, I was still a programmer. I crafted pipes only in my spare time. The quality of my pipes grew, and so is the prices. In 2014, when there were more than a hundred pipes in my portfolio, I wasn't sure who I wanted to be more; a programmer or pipe maker.
I still do programming, from time to time, since I have a few regular customers who come for my help.
But now, pipe making is my main activity.
There is still a "business plan" on my desktop computer from 2010, when I considered my production costs and prices. It looks funny now, since, I wasn't able to predict correctly any parameters of my work. I was over optimistic in fetching a high profit in my first year as a pipe maker. Like any craft, pipe making requires a lot of time and investment. Only after 5 years, I can say, that this work brings as much money as my old programmer job.
Pipe making is really interesting craft. This is the job, I am happy to go to in the morning and sad to leave in the evening. Each finished pipe is a real joy and a new personal achievement for me.
My web programming skills, gave me an ability to sell my work online. I have my own website, where I sell my newly crafted pipes. Unlike most pipe makers, I don't have to work with dealers, or anyone else. I am my own dealer.
About half of my pipes were bought by my regular clients. Some of them have more than ten pipes. By becoming my regular client, you will have a significant discount.
I appreciate all my clients: they are a source of my family well-being. Thanks to you, my children are able to go to a lovely private gardens, study painting and music, visit theatres and zoos, and have happy and carefree childhood.